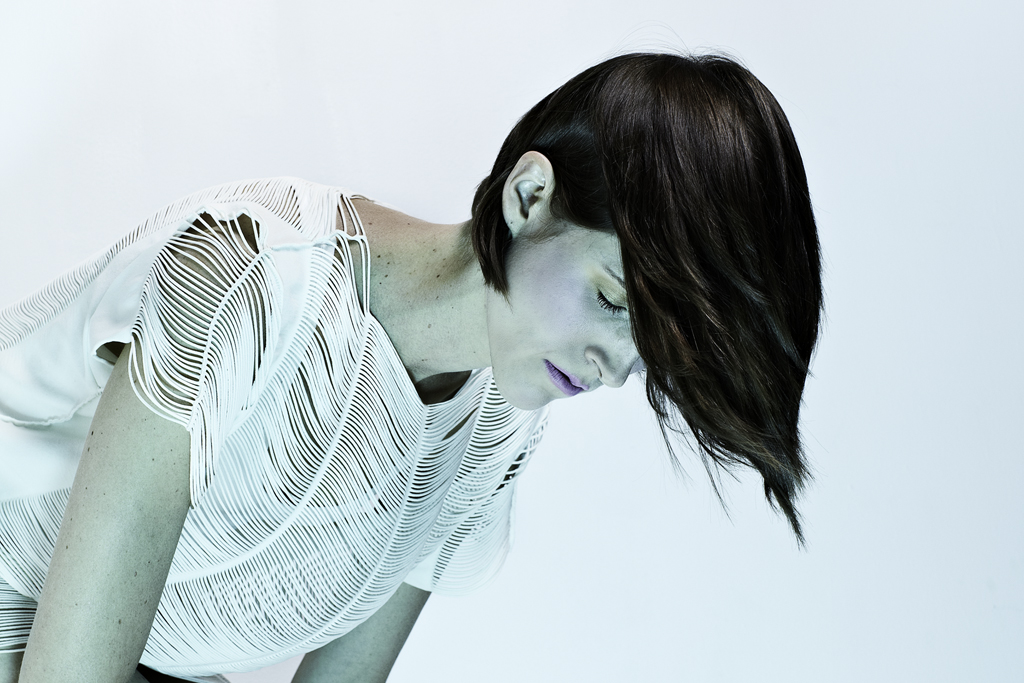 Chicago born, she's been making sine waves in the world of electronica for the good part of 10 years, though not before a calculated foray into the world of classical music which most certainly influenced the varied musical endeavours throughout her life. Having first worked alongside Traum and Ghostly International, her work has crossed the paths of many infamous labels such – Spectral Sound, Hello?Repeat and Leftroom Records are noted.
We finished this interview only a matter of hours ago as Kate was boarding a plane for Hong Kong, then to what's going be two drugged driven floors in both Sydney and Melbourne this coming weekend. To promote it as a gig would be an understatement – we'd suit up to expect a visual performance if we were you.
Many thanks to Kate. Australia is going to be moving.
–

Kn: As with all artists that grow up being subjected to an environment that perhaps encourages a cultural foray more so than others, how did that all play out for you in Chicago if we take a step back?
Ks: Growing up in Chicago influenced me in so many ways- from how I hear music, to how I behave (or don't behave) as a DJ, and definitely influenced my taste in music as well. Chicago is an industrial city in the Midwest United States.
Kn: Late nights. Early mornings. No mornings at all. There would of been substantial (and ongoing) effort you placed into your past that's ensured I'm able to have this conversation with you today. Can you give us a time line on some of the events that defined you more so as a person if we put the music aside for a moment?
Ks: There actually is a defining moment that I can remember. I was driving from Miami (where I was studying classical piano) to a rave in Tampa, Florida, with friends who were well-known IDM producers at the time. We were listening to something on Warp, Skam, etc. and I had a moment when I realized I was a lot more passionate about electronic music than classical piano. At that time I didn't even know how to improvise on the piano, and had no idea how to make beats or compose my own music. But I decided that I should tackle the challenge and try to make the music I love the most. It was a steep slope at times, but I'm so happy I switched focus.

Kn: Your history with classical music is no secret and you've discussed it in the past, but to approach that from a different perspective would be great. To this day how does it correlate with your approach to writing electronic music?
The mindset, the attitude – all of these cognitive undertones that perhaps you've reflected on.
Ks: I use music theory all the time when making a new track. Usually I'll make a beat, then jam out a couple parts. From there I'll try to add new parts that are interesting melodically or harmonically. I don't analyze the tracks, but I do use the music theory as a useful language a lot.
Kn: …the solid foundations that no doubt led you to the Spectral Sound imprint alongside some big names that you've since worked with. A lot of people aren't really aware of the finer points of making that step from bedroom producing to something akin to what you achieved – can you run us through the process that allowed your work to reach retailers for the first time?
Ks: The main impetus of moving from student and bedroom producer to having my music released was collaborating with Andres Bucci, in 2002. I met Andres and his brother Pier in Santiago at that time, and they had an amazing DIY spirit. Andres asked me to collaborate with him, and we made our first album, under the name Detalles, in just 2 months. It taught me how to finish tracks and believe in my music. The album was released on Traum, which was amazing!


Kn: Along a similar vain you completed the film score for 'Atom Smashers'. How did you manage things at your own end and how did the process deviate as opposed to a straight up record release?
Ks: Making music for film is different because the music needs to aid the picture, and the music has to please the director. It's a different process, but I really love it too.
Kn: Now to the important news we're all looking forward to, and certainly those based in Sydney and Melbourne. The crews Golden Cage and Under One Roof respectively will be hosting the legs. Is there anything you're really looking forward to and any news you can share with us to compliment the tour?
Ks: Really excited for the Melbourne and Sydney shows! I'll be doing a one-hour live audio-visual set, which features interactive video using Max/MSP. I've added live keyboards to the set as well, which has been really fun. I think it makes the whole experience more live for the crowd too. I've requested to DJ after the live sets, so the set will be a live + DJ set.
Kn: So much has happened in the past 10 or so years Kate and we're sure there's plenty more where that came from. A) What are you going to be focusing on this year and B) what's on the horizon that's always at the back of your mind as something you'd like to pursue?
Ks: I've just moved to London to start a 2-year masters program in Composition for Film. I love making music for film, and am really excited to be living in London! The next couple of years will be a balancing act between learning classical orchestration, film music conventions, and keeping up with my own music and DJing, of course. I have a few new releases that will hit in the next few months, and a collaboration with Tevo Howard, called PolyRhythmic, that I'm really excited about too. Thanks so much for the interview. I'm at the airport ready to take off for Hong Kong (then Melbourne).. see you in Australia soon!
–
Kate Plays –
Friday August 10 Under One Roof (Brown Alley, Melbourne)
Saturday August 11 Golden Cage (Civic Underground, Sydney)
FaceBook // Beatport // Ghostly International